Old Pretty Solid Silver Pocket Watch with Rooster, Restoration Period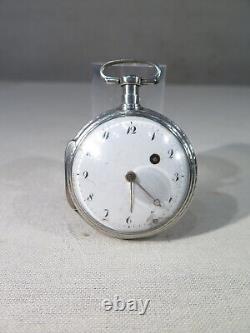 Ancient beautiful pocket watch with a rooster movement and a silver case. Domed enamel dial with an accident at 5 and 7 o'clock.
The tips of the hands are damaged, and the glass is scratched. The movement still has its chain. There is a small element inside that attaches to the rooster.
This watch bears the hallmark of the fasces of the lictor. Hallmark in effect from (1809 to 1819).
This watch does not work, it will need to be revised for a thorough cleaning. Dimensions: Diameter: 5 cm - Thickness: 2.2 cm.
Please send us your payment within 8 days. The shipment of your package will be made within 24 to 48 hours for payment by bank transfer and PayPal, working days, upon receipt of your payment, please allow 10 days for payment by check.
We take special care in packaging all of our items to ensure maximum protection.